Roaming charges: NI anger as EU delays move to scrap tariffs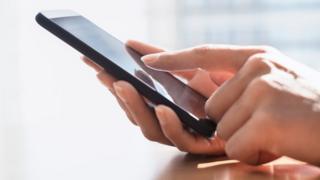 Mobile phone customers who live close to the Irish border have reacted with anger after European Union governments blocked plans to scrap roaming charges.
Some customers pay an extra £300 in mobile phone bills because of so-called inadvertent roaming, according to the UK communication regulator, Ofcom.
For Northern Ireland customers, it happens when their phone connects to a mast in the Republic of Ireland.
It means customers are charged international rates for domestic calls.
'No choice'
The European Parliament had voted for roaming charges to be abolished across the European Union in December 2015.
However, it required approval from EU governments who have now challenged that decision. They have said the costs should remain at least until the end of 2018.
Customers affected by roaming charges include Chris Wallace, who manages a family business in a coastal town in County Down.
"Where my business is based in Kilkeel we have no choice but to roam on the Republic of Ireland's networks, because a lot of the time we have no other phone signal here," he said.
"It costs a significant amount of money over the year but if we turn roaming off we will lose business."
"We vote for our politicians and we want them to fight our corner in this."
'Bill shock'
Northern Ireland's three MEPs say they will challenge the decision made by European governments.
"This is entirely unacceptable and goes against the democratic decisions of the European institutions" said Sinn Féin MEP Martina Anderson.
"The European Parliament and European Commission both voted that mobile phone providers must abolish roaming charges by the end of this year."
"Roaming charges are unfair and outdated and must go."
Roaming charges can lead to phone users getting a "bill shock" while travelling around Northern Ireland, as County Antrim solar pane engineer, Shane Kelly, found out.
'Double the cost'
"I'm normally based in Lisburn, but I had a bit of work in County Down and I was I was using my phone as normal - calling the office and taking calls from customers," he said.
"The following month I received my phone bill which was double the cost it usually is."
"The mobile phone company told me it was because I was in the Republic of Ireland. I told them I was wasn't, and that I wasn't happy about having to pay that cost" he said.
"Thankfully they reimbursed me and credited my account."
Cuts to roaming charges across the EU have been introduced in stages by European leaders since 2007.
---
Current maximum roaming charges in EU
Downloading data/browsing: 20 cents (15p) per megabyte
Making a call: 19 cents (14p) per minute
Receiving a call: 5 cents (4p) per minute
Sending an SMS: 6 cents (4p)
Source: European Commission roaming tariffs
---
"For those living in border areas of Fermanagh, Tyrone, Armagh and Londonderry where mobile signal can switch to Irish Republic networks, the need to end costly mobile roaming charges is urgent" said Democratic Unionist Party MEP, Diane Dodds.
"In the coming days, I will be working hard to ensure that the views of people right across Northern Ireland on this issue are taken into account as negotiations between the European Commission, Parliament and Council on the way forward get under way."
'Baffling'
The EU member states must now agree a common position with both the European Parliament and Commission before changes take effect.
"The announcement that the governments of the 28 member states have chosen to retain these extra charges for at least another three years is not just hugely disappointing, it's also baffling" said UUP MEP, Jim Nicholson.
"This is not the end of the matter as negotiations will now have to take place between member states, the European Parliament and the Commission to agree a common position."
"I will continue to fight for a fair deal for consumers, but it is frustrating that a decision which could have brought tangible benefits by the end of the year has been kicked into the long grass."