Northern Ireland public transport workers join strike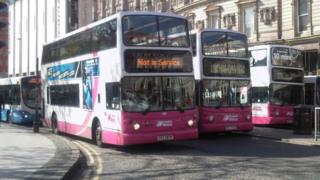 A union has said public transport in Northern Ireland will be "shut down" by strike action on Friday.
Members of a number of public sector unions are taking industrial action over budget cuts and job losses.
Bus and train drivers from the Unite and GMB unions are joining the strike action.
Unite's Michael Dornan said: "I envisage it will be the same as 2011 and we will have a shutdown of Northern Ireland's bus and rail."
Between them, Unite and the GMB are estimated to have about 70% of public transport workers as members. Both buses and trains will be affected.
"When you have people taking all-out strike action, it is always going to affect a lot of people, especially schoolchildren, especially people looking to go to hospital etc and it is very regrettable," Mr Dornan added.
"Unfortunately the message needs to be clearly sent to the party political people in Stormont, as well as Westminster, that there is another method and they must address it."
Earlier, the trade union Nipsa said it was asking members in a number of areas to join a public sector strike on Friday.
Bumper Graham of Nipsa said it was about protecting public servants and essential public services.
Last week, the health union Unison and members of the Irish National Teachers' Organisation voted to strike.
Nipsa said it was calling on members in the civil service and related bodies, the health service, education boards and the Northern Ireland Assembly to take part.
Of almost 8,000 ballot responses by civil service staff, 53% voted in favour of taking strike action on Friday. The same percentage of 102 Northern Ireland Assembly staff voted to strike.
Out of 1,717 ballots submitted by Nipsa's health and social care members, 78% voted for strike action.
Mr Graham: "We held a series of ballots across different employment areas and we got positive results in the vast majority of our ballots.
"We didn't ballot all 46,000 members but the critical thing in this is that 40,000 of our members will join tens of thousands of other public service workers this Friday to demonstrate the value and need for our public services, and to demonstrate that public servants are continuing to be picked out by the Westminster government for austerity measures."
He added: "Our members voted overwhelmingly to take both industrial action this Friday and beyond that, to show that we're going to protect public servants and essential public services."