NI welfare reform: Agreement contained few details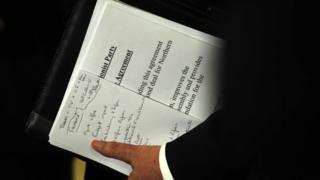 The Stormont House Agreement contained almost no detail about how welfare reform was to be implemented in a Northern Ireland-specific context.
The five main Stormont parties reached broad agreement on 23 December on a number of key issues, including welfare.
It contained few specifics, but said there would be a fund to top up benefits for people losing out under reforms agreed at Westminster.
The agreement said simply that there would be "further work to develop and implement flexibilities and top-ups from the block grant as part of a package of measures to address local need".
However, a deal between the five parties negotiated at the time, but only made public in February, listed mitigating measures with an estimated cost of £564m over six years.
The vast majority of that related to the replacement of Disability Living Allowance (DLA) with Personal Independence Payments (PIP).
Stormont's Welfare Reform Bill would give the Department for Social Development (DSD) the power to "to make payments to persons who suffer financial disadvantage as a result of the changes to social security benefits and tax credits".
That is supposed to involve setting up five mitigation schemes covering DLA as well as the changes to tax credits, housing benefit and job seekers allowance.
The details of those schemes have not yet been released for public consumption, but Sinn Féin now apparently does not like what the DSD is proposing.
Meanwhile, the DUP is accusing its coalition partner of "dishonourable" and "ham-fisted" behaviour.