Northern Ireland ministers fly to US in wake of welfare bill crisis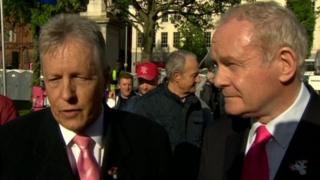 The Northern Ireland first and deputy first ministers fly to the United States later as a new question mark hangs over the Stormont institutions.
It follows Monday's decision by Sinn Féin to withdraw its support for the welfare reform bill.
The Northern Ireland Assembly is in crisis following the decision.
Peter Robinson and Martin McGuinness are expected to fly home on Wednesday night for more talks.
Sinn Féin and the Democratic Unionist Party, partners in the executive, have accused each other of bad faith.
A £700m Treasury loan to fund a public sector jobs voluntary exit scheme and the devolution of corporation tax powers are now in doubt.
A joint visit to Washington next week for a meeting with US President Barack Obama looks in jeopardy.
'Fatally undermined'
Of much more concern is the jeopardy facing the institutions.
Stormont sources say that with next year's budget perhaps fatally undermined they can stumble on until June, but maybe not much beyond.
Moving to block a welfare reform bill, Mr McGuinness, of Sinn Féin, accused the DUP of reneging on commitments on Monday.
DUP leader Peter Robinson said that was "dishonourable and ham-fisted".
A spokesman for David Cameron said the prime minister found the development "deeply concerning".
He said it was "very important" that the Stormont House Agreement, that included a deal on welfare reform, was implemented in full, and that "it must be for the locally elected political leadership to find a way forward, the responsibility is with them".
Welfare reform was the issue that threatened the future of power-sharing at Stormont last year.
The five main parties reached broad agreement on 23 December on a number of key issues, including welfare.
It followed 12 weeks of talks involving the Northern Ireland parties and the British and Irish governments.