Jonathan Ginn 'caught by his walk' over hoax bomb attack on Alliance MP's office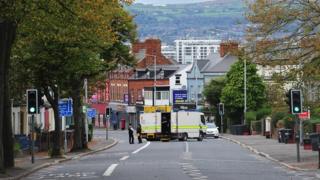 A man who planted a hoax bomb at the office of an MP who he had threatened to kill was later identified on CCTV by the way he walks, a court has heard.
Jonathan Ginn, who has cerebral palsy, has already admitted planting the hoax at Naomi Long's east Belfast office.
The 34-year-old, from Dunraven Court, Belfast, also admits threatening to kill the Alliance MP and her colleague.
The court heard a man who walked with a distinctive gait was filmed on CCTV leaving a hoax bomb in a tin of sweets.
'Circuit board'
A prosecution lawyer told Belfast Crown Court that the device had been left beside the Alliance Party office on the Upper Newtownards Road in early October 2013.
It was made up of two AA batteries, an aerosol can, some white powder, purple shards of plastic and a circuit board, all contained in a tin of chocolates.
The device was not noticed for a few days, but when it was, the police and bomb squad were called in.
'Gait analysis'
The court heard that the CCTV footage showed the person who left the device was wearing a high-visibility jacket and walked with a distinctive gait.
The footage was shown to a gait analysis expert, who gave strong support to the identification of the accused through the way he walked.
Due to his cerebral palsy, Ginn walks in a distinctive manner.
The prosecution said that during police interviews, he replied "no comment" to all questions.
A previous court hearing was told the hoax bomb was planted during a loyalist protest over the union flag dispute.
Last month, the accused pleaded guilty to a total of four charges including threats to kill, planting the hoax, and trying to intimidate Alliance East Belfast MLA Chris Lyttle out of his job.
On Tuesday, pre-sentencing reports were submitted to the court.