HIA Inquiry: Former Nazareth House residents defend 'caring' nuns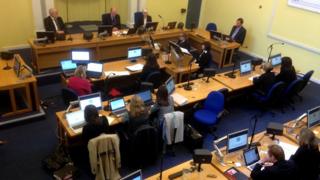 Two former residents of a children's home have launched a robust defence of nuns who ran the care facility, during a major inquiry into child abuse.
The women, now aged 53 and 62, thanked the Sister of Nazareth nuns for caring for them as children at Nazareth House residential home in Belfast.
The pair were giving evidence to the Historical Institutional Abuse Inquiry (HIA), in Banbridge, County Down.
Nazareth House is one of several former children's homes under investigation.
'Tried their best'
The women spent part of their childhood and teenage years at the Belfast home, which has since closed.
One of the witnesses told the inquiry: "The nuns tried their best for me and I basically want to thank them from my heart for the care."
She added: "There was nobody else to take me in"
A second witness described how she was well cared for and given "security" at Nazareth House.
The woman said she was "heartbroken" when she had to leave the home, aged 17.
Compensation
"I cried sore the first week and would have given anything to get back to the home," the former resident told the inquiry.
Both witnesses said any compensation arising from the HIA findings should be paid by way of additional pension payments to former residents who are struggling financially in their latter years.
The HIA inquiry was set up in 2013 to investigate allegations of child abuse in residential institutions in Northern Ireland over a 73-year period.
Its remit dates from 1995 back to the foundation of the state in 1922.