Seamus Daly: Omagh bomb accused has an alibi, court told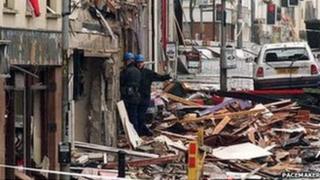 A man accused of murdering 29 people in the 1998 Omagh bomb has an alibi, a court has been told by his lawyer.
Seamus Daly, 44, is originally from Culloville, County Monaghan, but now has an address at Kilnasaggart Road in Jonesborough, County Armagh.
He appeared at Omagh Magistrates' Court, County Tyrone, via video-link.
Mr Daly was remanded in custody until 31 March.
He has been in custody since April 2014.
His defence lawyer called for full disclosure of mobile phone records by police ahead of what he described as the "biggest murder trial in British criminal history", which is expected to centre on calls made at the time.
He said: "My client has put forward an alibi in 1999 and he is saying he was not in Omagh with any mobile phones and he is anxious that all voice analysis would be compared in relation to each phone.
"We are asking for all audio in relation to mobile phones."
Mr Daly faces 29 counts of murder.
He also faces counts of causing the explosion in Omagh in August 1998 and possession of a bomb with intent to endanger life or property.
He is further charged with conspiring to cause an explosion and having explosives with intent in connection with a separate dissident republican bomb plot in Lisburn, County Antrim, in April of that year.
The primary witness that the Crown has put forward is Denis O'Connor, the court has heard.
Mr Daly's lawyer asked that all original notes by police in the Republic of Ireland in relation to Mr O'Connor form part of the disclosure that is submitted by them.
He said he was also seeking all the original data from mobile phones.
'Material'
He repeated claims that the evidence was "stale", saying it had been in existence since 1999 and nothing had changed.
The lawyer said that Mr Daly was living openly in the Jonesborough area, supported by statements from parish priests and Gaelic Athletic Association figures, and said it was nonsense that he could not be found.
A lawyer for the Public Prosecution Service (PPS) said prosecutors had stuck to their commitments to make progress in the case.
He said material from police in the Republic of Ireland should be with the PPS within the next three weeks.
The lawyer said a preliminary report from a mobile phone expert for police was ready a fortnight ago, but that it omitted information and the document was referred back to its author.
He said a revised version would be available by the end of next week.
A "significant" amount of material has already been submitted for preparation for the case, the court heard.
"We have held to all of the undertakings and assessments I gave the court in my last application," he said.
"It is vehemently disputed that there was ever an indication of July as a preliminary inquiry date (when the evidence will be produced)."
The defence lawyer for Mr Daly invited the judge to call a former solicitor on the case to give evidence about the preliminary inquiry.