Sport NI cuts to devastate disability sports in Northern Ireland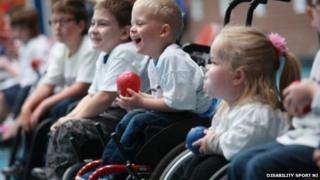 Disability Sport NI (DSNI) has said cuts to its budget will "devastate" disability sports in Northern Ireland.
The group provides opportunities for people with disabilities to get involved in sport.
It is facing budget cuts of 50% over the next three years.
It is now having to remove services to 7,000 of the 20,000 people it works with and has had to reduce its own staff from 19 to 14.
Disability Sport NI said despite this it still faced making a loss this year and said there were fears for its survival.
Chief executive Kevin O'Neill said: "Last year we received £285,000, this year we got £207,000 and in the new financial year that is going to fall to £146,000.
Several programmes currently offered by Disability Sport are now being axed.
These include: the disability sports grassroots wheelchair basketball programme and the entire Northern Ireland Boccia programme, including its support for both the Boccia league and clubs.
Boccia is a Paralympic sport, like bowls, which was devised for people with severe physical disabilities.
Other activities which will cease include the Fermanagh inclusive leisure project and the Northern Ireland community events programme.
Mr O'Neill called on Sport NI to reconsider its decision.
'Collaborative partnership'
In a statement Sport NI said it had worked over the last year to align its available resources with DSNI's priorities and had awarded it £146,250 for 2015/16.
Sport NI said during the last three years DSNI had secured a number of "one-off" additional payments totalling £181,446.
"These 'one off' uplifts were only made possible by the public sector budget environment at that time, and DSNI was made fully aware of the 'one off' nature of these additional funding opportunities," the statement said.