Belfast Christmas lights switch-on 'needs rethink to boost business'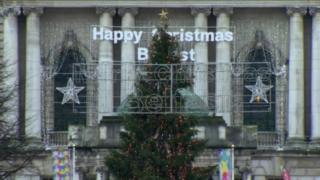 The group which manages Belfast city centre is calling for a rethink of the Christmas lights switch-on, after 69% of shops felt last year's event "did not benefit business".
It follows the event being moved to a Saturday evening.
Belfast City Centre Management (BCCM) said the timing of the event and how it is managed should be reviewed in collaboration with the council.
The recommendation is made in a report by BCCM on Christmas trading.
The group said retailers needed to be proactive "to entice those present for the switch-on into their premises".
"The event hinges on this ability," the report said.
Overall, Christmas 2014 in Belfast city centre was an improvement on 2013 in retail terms.
Sales performance was said to be up by 6%.
However the report said: "Whilst the overall average was encouraging, there remained some stores who did not enjoy a 'bumper' festive trading season."