Nigel Dodds: UK audience 'needs to hear DUP policies'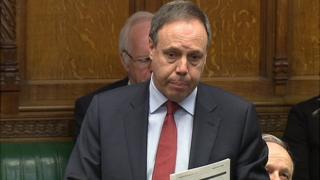 The DUP's deputy leader has said voters across the UK need to know where his party stands on national issues as it could play a role in a hung parliament.
Nigel Dodds made the comment during a House of Commons debate about the planned TV election debates which have been scheduled for next month.
The DUP has been excluded from them.
The debates have been offered to representatives of the Conservatives, Labour, the Liberal Democrats , UKIP, the SNP, Plaid Cymru and the Greens.
The BBC, Sky, ITV and Channel Four plan to hold three debates in April.
But that original format is now in doubt after the prime minister said he would only take part in one debate with seven party leaders before 30 March.
Wednesday's DUP motion said the planned broadcast debates have been incompetently formulated and that there is a substantial danger that the debates will not happen.
Speaking in the chamber, Mr Dodds said: "We are part of the UK, we play a very significant role in terms of this house. The DUP has eight MPs. They deserve to have their voices heard on behalf of the people they represent."
The North Belfast MP added: "They should not be excluded, especially in the context where the DUP could actually play a much more significant role on 8 May than some of the parties that are actually going to be included in the debates."
'Unseemly mess'
Foyle MP Mark Durkan described the whole issue of the planned TV debates as an "unseemly mess".
East Belfast MP Naomi Long said: "There is now no clear rationale for who should be included in the debates."
The Commons debate comes after the BBC Trust rejected the DUP's appeal to take part in debates ahead of the general election.
Last week the DUP said the trust's decision defied belief
The party has reiterated its call for an independent commission to organise debates in future elections .