Stranmillis proposes universities move to its Belfast site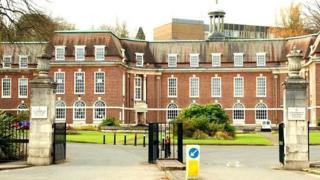 Management and staff at Stranmillis College have proposed that Queen's and Ulster universities move their teacher training departments to the Stranmillis site, the BBC has learned.
The proposal is in a letter from Professor Sir Desmond Rea, the chair of Stranmillis' governing body, to the vice-chancellors of both universities.
The letter also says that St Mary's should also be invited to move to Stranmillis in south Belfast.
The letter was written on 19 February.
That was a week after Employment and Learning Minister Stephen Farry was overruled by the executive in his attempt to remove more than £2m from the budgets of St Mary's and Stranmillis colleges.
St Mary's University College and Stranmillis University College are the two main teacher training providers in Northern Ireland.
The majority of their students are trained to teach in primary schools.
Queen's University and Ulster University also provide teacher training, mainly for those seeking to teach in the post-primary sector.
In the letter, Prof Rea invites both universities "to move their interests in teacher education onto the Stranmillis site".
With regard to St Mary's, he goes on to write that: "We would also propose that QUB [Queen's University Belfast], UU [Ulster University] and SUC [Stranmillis University College] extend the same invitation to St Mary's.
"Should the invitation be declined, we would then propose that the three institutions move forward" to implement a Northern Ireland Institute of Education at Stranmillis.
The letter goes on to suggest that Queen's might help facilitate the move of St Mary's by transferring "an academic area or areas to the St Mary's site freeing St Mary's to transfer education to the SUC site."
A single Northern Ireland Institute of Education was one of the models for the future of teacher training proposed by an international review panel report in July 2014.
'No intention of moving'
No-one from Stranmillis was available for comment, but in a statement the principal of St Mary's, Prof Peter Finn, said that teacher training in Northern Ireland "should have an autonomous and viable Catholic higher education institution, St Mary's University College, located at 191 Falls Road, which is academically integrated with Queen's University".
He also said: "We believe that the college's location in an area of high socio-economic disadvantage adds value to the infrastructure and contributes to the common good.
"We have no intention of moving our provision from the present Falls Road site in west Belfast."
Queen's University also declined to comment, but the vice-chancellor of the University of Ulster Prof Richard Barnett, said: "Ulster University believes Northern Ireland must aim to achieve world class teacher training education provision, irrespective of institution of provision, and that it should take place in an integrated environment.
"Ulster University remains fully committed to the two-centre option of provision which would see one centre located in the north west and the other in Belfast, located at either St Mary's or Stranmillis."