Department of Health says it has strike cover plan for Friday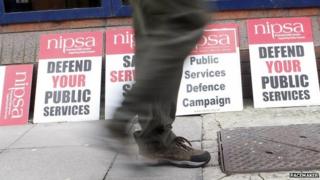 The Department of Health has said arrangements have been put in place to ensure "critical services will be maintained" during a planned strike by some public sector unions on Friday.
Health service workers from the Unison and Nipsa unions will be among those involved.
The department said that for the duration, cover would be provided for "emergency services and activities".
Non-critical planned procedures and appointments will be cancelled.
The department said cover would be provided for critical and emergency services.
It said this would "include some outpatients, inpatients and the most vulnerable who require care in a community setting and in residential and children's homes".
"While every effort will be made to maintain services as far as possible, it is likely that patients and clients may experience delays on the day," a spokesperson said.
"Health care providers will take steps to inform patients and clients of the impact of the industrial action, where this is necessary, however patients and clients should check with their local health care provider for information on their individual circumstances."