Only three all-boys Northern Ireland schools take depression classes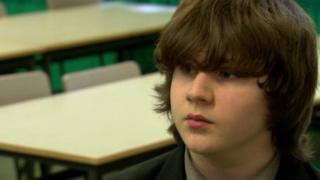 Only three all-boys schools in Northern Ireland have taken up the offer of a free depression awareness course run by a local mental health charity.
Aware Defeat Depression run the classes to help young people recognise the signs of mental illness.
The charity said it is concerned because suicide rates are higher in young men.
Ninety mixed schools and youth clubs have taken part in the project.
St Mary's Grammar School, Glen Road, west Belfast is one of the three boys schools involved.
Teacher Raymond Herron said it was crucial to give the boys the tools to help them recover: "It's especially important for boys. Girls are very good at talking about their feelings and offering support to each other.
"But boys are lagging behind in that field and do tend to bottle their feelings up and do tend to look for solutions elsewhere as opposed to talking and opening up about it.
"During the class, we were surprised by how many of the 14 and 15-year-olds had already had some experience of depression."
'Kept it hidden'
Matthew Kennedy has had a number of friends who have been depressed and that has led to self-harm.
"I don't want to name names but they kept it hidden and by the time I found out about it they had got it sorted," he said.
"Now I constantly talk to them and stay with them so that they're not by themselves or lonely and can't have someone to help."
That level of awareness and worry is replicated among other students. Jacques Granier, 14, said: "I've had a few friends who've been down.
"They told me and I tried to help them through it, comforted them when they needed it.
"They were in their house and texting and said they wouldn't come out and I said I'll come over and stay with you and we can do something fun and I took over some DVDs."
Rian Murphy, 14, said a number of his friends had suffered from depression and had contacted him to ask for help: "I didn't think that boys were good at admitting they had problems, but a lot of people have come to me and they've really opened up."
Pressures
The chief executive of Aware Defeat Depression, Siobhan Doherty, said there was a steady increase in the levels of depression among young people :
"When you look at the pressures that young people are under, the exam stress and the pressure to do better, there's also new technology and I think that puts a lot of pressure and strain on young people and bullying online that very often parents don't see," she said.
"What we want to do is ensure that when young people are depressed they know what it is and they know what to do to get help. Our dream is to be in every school."
The charity can be contacted on 028 9035 7820 or 028 7126 0602.