Titanic Quarter plans to open Belfast exhibition centre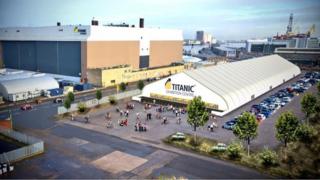 Titanic Quarter has announced plans to build an exhibition centre in east Belfast.
The property company said it intends to develop it at a site on the Queen's Road, opposite the Titanic Studios.
It said a planning application for a 6,000 sq m temporary building will be lodged later in March.
Subject to planning permission, it is expected that the facility will be available to stage exhibitions and trade shows by autumn 2015.
The company said its longer term plan is to develop a permanent facility.
David Gavaghan, Titanic Quarter's chief executive, said: "Over the last few years Titanic Quarter has been approached by a number of exhibition organisers to consider developing a dedicated Titanic Exhibition Centre.
"With strong initial interest already secured, including provisional bookings, we believe this is an opportune time to develop a new space in central Belfast that will allow the city to market itself as a destination for consumer, lifestyle and trade events."
Belfast City Council is currently building a major extension to the Waterfront Hall for use as an exhibition centre.
The facilities there are expected to open for business by summer 2016.