Business leaders in Stormont welfare crisis call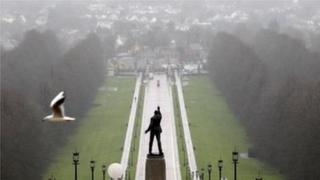 Four leading business organisations in Northern Ireland have called on politicians to resolve the deadlock at Stormont over welfare changes.
Earlier this week, Sinn Féin withdrew support for welfare reform legislation.
The move has raised questions about the future of devolved government.
Writing to the first and deputy first ministers, the business leaders said it had "placed us at another crossroads in Northern Ireland's progress towards a better future for all".
The letter was signed by CBI Northern Ireland chairman Colin Walsh, Northern Ireland Chamber of Commerce and Industry president Kevin Kingston, Institute of Directors chairman Paul Terrington and Federation of Small Businesses chairman Wilfred Mitchell.
"The commitment of the business community to grow the private sector and create tens of thousands of jobs for everyone remains undimmed," they said.
"However, delivery of lower corporation tax is fundamental to achieving these outcomes."
They said that they recognised there was "no ducking the lower levels of public expenditure that face us".
"The business community is ready to sit down with all the stakeholders today to focus on the hard work required to create thousands more jobs and to build our businesses into world class enterprises.
"We strongly encourage our political parties to come to an urgent solution so that we can all move forward together."