Newtownards Road, east Belfast: Man jailed for stabbing shop owner after dog bite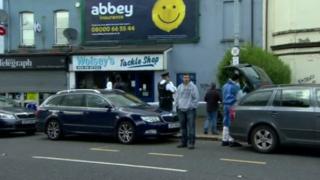 A man who stabbed an east Belfast shop owner with a hunting knife after he was bitten by one of the owner's dogs has been given an eight-year prison sentence.
Raymond Allardyce, 50, was charged with attempting to murder Denis Wolsey at his tackle shop last June.
Mr Wolsey has run a tackle shop on the Upper Newtownards Road since 1984.
Belfast Crown Court heard Allardyce stabbed Mr Wolsey with a hunting knife three times and punched him repeatedly.
The attack had taken place after Allardyce, who was intoxicated, tried to give a crisp to one of Mr Wolsey's dogs when it bit him.
'Paralysis'
The court was told then Allardyce left the shop and around 45 minutes later, a shop assistant saw him returning to the tackle store, where he proceeded to stab Mr Wolsey three times.
Allardyce continued the assault, hitting the shop owner repeatedly and threatening to cut his nose off and cut his throat.
The court was told that Mr Wolsey, 65, had sustained life-changing injuries and could have been killed as a result of the attack.
Mr Wolsey can no longer work more than a couple of hours in the shop, suffers paralysis of his left side and walks with the aid of a stick.
He also had to move to a house that is more accommodating to his needs.
The prosecution said: "The incident has had a dramatic effect on his life."
'Out of character'
The prosecution said the brutal attack only stopped "because of the arrival of the police, rather than any decision on Mr Allardyce's part".
The court heard the two men had known each other and that Allardyce was a regular customer at the tackle shop.
Allardyce had denied attempting to murder Mr Wolsey, but did admit wounding the shop owner with intent to cause grievous bodily harm and possession of an offensive weapon.
A defence lawyer said Allardyce had expressed regret and remorse, and branded the attack as "out of character" for his client.
He also said he has abstained from alcohol since the attack happened.
'Horrific'
Allardyce, whose address was given as Bannview Heights in Banbridge, County Down, but who is originally from east Belfast, will serve half of his sentence in prison, with the rest spent on licence.
Speaking outside the court, Mr Wolsey described his ordeal as "horrific".
The businessman said: "If he had have got 15 years, it wouldn't have been long enough. He needs to be taken off the streets for a long time.
"This was a prolonged attack on me and I have to get on with life and struggle on with my disabilities.
"I'm at the age now where life should be getting easier, but since last summer life has become much more difficult for me."