Enda Kenny says Gerry Adams 'well aware of abuse'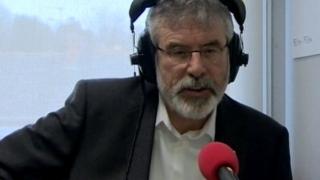 Irish prime minister Enda Kenny has said he does not believe Sinn Féin president Gerry Adams' claims that he did not know about republican involvement in sexual abuse cases.
Earlier this week, County Louth man Paudie McGahon alleged he was raped by a senior IRA member when he was 17.
Mr Kenny said he was "quite sure" Mr Adams was "aware of what's happened".
However, Mr Adams said the Taoiseach's remarks were "opportunistic and demeaning to his office".
Speaking on Friday, Mr Kenny told Irish broadcaster RTÉ that the Sinn Féin president knew "full well" what safe houses and kangaroo courts were for, and that he knew the people involved.
In response, Mr Adams said: "Mr Kenny says that I should go to the gardaí about anything that I know regarding issues of sexual abuse - he says this in the full knowledge that I have already done this."
Mr McGahon told the BBC's Spotlight programme that an IRA man, from a well-known republican family in Belfast, abused him and then threatened him to remain silent.
He said he was later subjected to an IRA "kangaroo court" after a Sinn Féin representative was told of the allegations.
On Wednesday, Mr Adams said he first heard about the case in 2009.
He said he believed Mr McGahon's allegations that he was raped. However, he did not clarify whether he believed Mr McGahon's claims that he was subjected to an IRA "kangaroo court".