Welfare reform: Gerry Adams says more progress made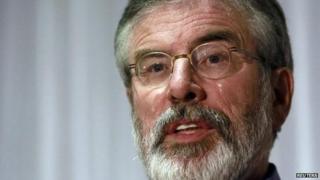 Sinn Féin leader Gerry Adams has said that progress is still being made in talks over welfare reform.
Mr Adams said he had spoken to Deputy First Minister Martin McGuiness who has held more meetings on Saturday with First Minister Peter Robinson.
Earlier this week, Sinn Féin withdrew support for the welfare reform bill.
The move has raised questions about the future of devolved government and talks have been taking place to solve the impasse.
"I spoke to Martin McGuinness earlier this afternoon and progress has been made," Mr Adams said.
"Martin set this out previously when he said he was resolution focused.
"So our team has been working with the DUP. I am pleased to note that progress has been made and I hope that continues.
"We are very committed to these issues, it's a core issue for us."
On Friday, Mr Robinson said he was "not without hope" about finding a resolution, but there was "still a long way to go".
He was speaking after more than five hours of talks between the DUP and Sinn Féin.
"There is a commitment to Stormont House and Castle agreements. We've had discussions which I think were useful during the course of today," Mr Robinson said.
"I'm not without hope that we can reach a resolution."
It is still unclear if the first minister and deputy first ministers will travel to Washington to attend Barack Obama's St Patrick's Day festivities on Tuesday.
Mr Robinson said he did not want to put the president in an embarrassing position and if there was still a crisis it would be "absurd" for him to head towards Washington.