Security alert where youths attacked police declared an 'elaborate hoax'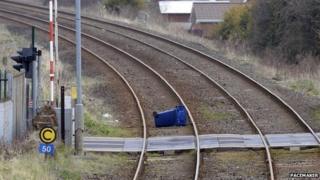 A security alert where police were attacked in Lurgan, County Armagh, has been declared an "elaborate hoax".
The alert began at about 21:30 GMT on Sunday after a report two devices had been left on or near the railway track at Lake Street.
Army technical officers examined two suspicious objects which they declared elaborate hoaxes.
Lake Street and the train line have now reopened and residents have been allowed back to their homes.
The PSNI said a small number of youths threw bottles and stones at police officers in Levin Road while they attended the alert. Petrol bombs were also seized nearby.
Craigavon Area Commander Chief Insp Paul Reid said he was "very disappointed" that his officers were attacked.
Chief Insp Paul Reid also thanked the public for their patience during the security alert which lasted over 20 hours and appealed for information.