Around Ireland in the footsteps of George Du Noyer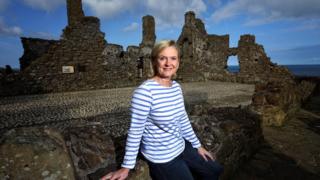 Artist and geologist George Victor du Noyer spent his entire adult life walking around Ireland.
The Dubliner was given the job of visiting every rock exposure on the island and recording the details on six-inch sheets of paper.
He did it as part of the great Victorian geological survey that began in 1845.
As well as charting the landscape, Du Noyer took the opportunity to capture Irish life as it was more than 150 years ago.
His exquisite drawings and watercolours record the relationship between the people and the land (something he was the first to document).
His numerous sketches and pictures with their combination of artistic skill and technical accuracy, were the field photographs of their day.
Ambitious project
Now, the work of this little-known Victorian artist and geologist is being brought to life in a new television series, Great Irish Journeys with Martha Kearney.
Over the course of four programmes, the broadcaster and journalist embarks on a comprehensive walk around the island, unlocking the story of Ireland's hidden landscapes and revealing Du Noyer's unique record of how the country looked during the mid-19th Century - a period of huge change.
Du Noyer, who was born in 1817, was a a draughtsman by training but he was just as familiar with archaeology, history, geology and palaeontology.
His journey began in 1834 when he was employed by the civilian department of the Irish Ordnance Survey.
He remained there until 1845, when the newly established Geological Survey of Ireland (GSI) began.
The survey was an ambitious project to map the entire island, including its geography, geology, archaeology and historical sites.
Life for a surveyor in Victorian times was hard. Du Noyer travelled by foot and on horseback accompanied by his loyal dog, Mr Buff, stayed in rudimentary guest houses, and battled daily with the weather, poor nutrition and disease.
Throughout his 35-year odyssey, he sketched landscapes alongside mapping them. He also drew street scenes, flowers and plants. He recorded fossils, castles, houses, people that interested him, broken gates, big vistas and little details.
Curiosity
There may have been more accomplished geologists, artists, and archaeologists, but no one could match him for skill - and passion - in cataloguing step by step the terrain in its entirety.
In April 1867, Du Noyer became the GSI's first district surveyor and moved to Carrickfergus, County Antrim.
While working in Antrim in December 1868, he took ill with scarlet fever and died on 3 January, 1869, aged 52, his eldest daughter Fanny having died from the same disease the day before.
They were both buried in the graveyard adjoining All Saints' Parish Church in the town.
"Du Noyer had the same kind of curiosity that journalists have - which was something I really admire about him," says Radio Four World at One presenter, Martha.
"He talked to everyone and was very interested in finding out about the history and culture of places that were really remote.
"I last spent time in Northern Ireland between 1988 and 1998, as a reporter covering the Troubles and the Good Friday Agreement, so I was delighted to return and discover Ireland through the eyes of an artist.
"It was a wonderful and fascinating experience. We visited the most beautiful places including my favourite, Dunluce Castle, County Antrim.
"And we were so lucky with the weather. It was beautifully sunny - not what I remember from my days standing outside Stormont and Hillsborough."
Great Irish Journeys with Martha Kearney, begins on BBC One Northern Ireland, at 19:00 on Monday 16 March.