Moyle electricity interconnector 'back at full force by 2016'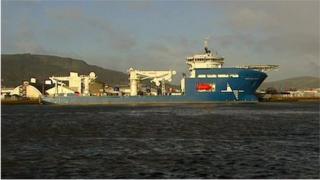 The Moyle electricity interconnector between Northern Ireland and Scotland should be back to full capacity by 2016, its operator has said.
Mutual Energy said this was a year ahead of schedule and would cost "well below" the previous estimate of £60m.
Faults dating back to 2010 meant the interconnector was running at half of its usual 500mw capacity.
Now two new cables are to be laid underwater.
Mutual Energy's Paddy Larkin said the new cables meant the system would " have more stability and flexibility and an enhanced security of supply from 2016 onwards."
Consumers will ultimately have to bear the cost of the repairs - the sum will be determined by Northern Ireland's Utility Regulator.
The 12-year-old interconnector ensures cheaper electricity and security of supply between Northern Ireland and Great Britain.