UKIP wants to work with DUP says Paul Nuttall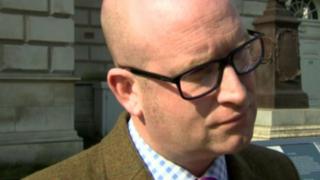 UKIP is keen to work with the DUP at Westminster in the next parliament, its deputy leader has said.
Paul Nuttall said he had met DUP leader Peter Robinson.
Mr Nuttall, who was meeting UKIP candidates in Belfast, said the party was keen to join with the DUP in securing an early referendum on the UK's membership of the EU.
"We'll work with the DUP in Westminster towards securing that referendum if we can get it this year," he said.
"I've had conversations with Peter (Robinson) about working together once we're over there, and we would be a pretty substantial bloc.
"Let's not forget, ourselves and the DUP combined may well have more seats than the Liberal Democrats which then could change the dynamic in Westminster altogether."
UKIP leader Nigel Farage promised in 2013 that the party would run candidates in every UK constituency.
However, the party is only running in 10 of Northern Ireland's 18 constituencies.
Mr Nuttall said they had stayed out of some constituencies because they did not want to see more Sinn Féin members at Westminster "not taking their seats, letting down the democratic process and letting down their own voters".