NI fire service warns of damage caused by gorse fires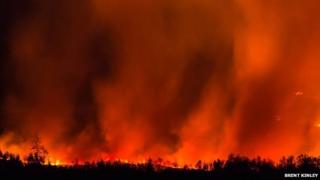 The fire service has warned of the damage that can be caused by wildland fires, also known as gorse fires, at this time of year.
It said it already had put out over 60 gorse fires since the start of March.
It said contrary to the belief that they are sparked by hot, dry weather, most of them occur in the spring.
Winter frost leaves undergrowth too dry, meaning the fires can start easily and spread quickly, causing widespread damage throughout the countryside.
At times the damage is irreparable.
The most recent incident took place in County Tyrone on Wednesday.
Firefighters were called to a blaze near Mullaghfad forest near Fivemiletown just after 18:00 GMT. It took six hours to put it out.
The fire service said it believed the gorse fire had been started deliberately.
'Difficult conditions'
According to fire service figures, between 2012 and 2014, there were 5,002 incidents classed as wildland fires across Northern Ireland during those three years.
It said 4,584 of the fires were deemed to have been started deliberately.
Fire service district commander Brian Stanfield said dealing with gorse fires was often a dangerous and time-consuming task.
"Tackling wildland fires means deploying fire fighters and their equipment to the scene often for prolonged periods of time, working under hazardous and in very difficult conditions, to bring fires under control," he said.
"A change in wind direction can cause the fire to spread rapidly, putting fire fighters at risk as well as nearby people and property."
He added that resources often have to be diverted away from other duties to deal with gorse fires, and said it is putting the service at risk of leaving towns and villages without adequate cover.
The Fire and Rescue Service said they want people to be able to enjoy the countryside, but want them to be vigilant during drier weather to help prevent more gorse fires in the future.
"While many fires are clearly started deliberately - and we would ask the public to report any suspicious behaviour to the police immediately - we want people to take measures to help prevent others being caused by accident," Mr Stanfield said.