Welfare reform: Theresa Villiers says talks constructive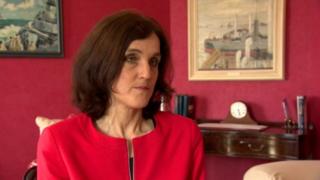 Secretary of State Theresa Villiers has described Thursday's talks on welfare reform as constructive.
However, there is still no sign of a resolution to the dispute over the scope of a benefit top-up scheme to be funded from the Stormont budget.
The current impasse began last week after Sinn Féin withdrew its support for welfare reform legislation.
Last weekend, Martin McGuinness said he hoped there could be a mid-week deal on welfare reform.
Peter Robinson said it was possible the bill could be tabled for a fresh debate next week.
However, the meeting between the secretary of state and the Northern Ireland parties appears to have been extremely brief, not much more than a quarter of an hour.
Those present were told work was continuing behind the scenes with officials on the details of the proposed top-up scheme.
Ms Villiers said she was encouraged that progress was being made and warned again that if the dispute was not resolved it would jeopardise the whole package agreed at Stormont House before Christmas.
Earlier, Finance Minister Simon Hamilton expressed his hope that the politicians will find a way forward.
He added that it remains important that Stormont did not exacerbate its financial difficulties by taking more money from public services to pay for welfare reform.
The Northern Ireland parties have held a number of meetings to resolve the impasse, but no agreement has been reached yet.
The Chancellor warned Northern Ireland's political parties on Wednesday during his final budget speech before the general election that they must reach agreement on welfare changes if they were to get power over corporation tax.
There has also been no move to convene a meeting of Stormont's business committee to schedule a fresh welfare debate prior to the Easter recess.
Some Stormont sources have suggested that this pointed to a continuing gap between the parties' positions on welfare.
'Manipulate the citizens'
One estimate is that while the bill continues to be delayed, Northern Ireland is accruing welfare-related fines from the Treasury at a rate of £2m per week.
On Thursday, the Green Party, which signed a petition of concern together with Sinn Féin and the SDLP in order to block the welfare reform bill, released a dossier strongly criticising Sinn Féin's handling of the issue.
Green Party MLA Steven Agnew said Sinn Féin "should not be allowed to manipulate the citizens of Northern Ireland into believing that they did not know the ramifications of the welfare reform bill when they committed to signing any agreements".
He described Sinn Féin's assurance that the bedroom tax would not be introduced in Northern Ireland as "either wrong or disingenuous".
The Northern Ireland parties had agreed a deal on Westminster's welfare reform in the Stormont House Agreement in December.
The issue had previously threatened the future of the Northern Ireland power-sharing executive.
Last week, Sinn Féin withdrew its support and accused the DUP of going back on what had been agreed.
The DUP rejected this, saying there had never been the money for all the things Sinn Féin wanted and that Sinn Féin had been aware of this.