Loughall IRA attack: Widow to challenge inquests intervention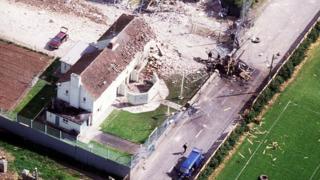 The widow of an innocent man killed alongside an IRA gang has won the right to challenge a government intervention in the campaign for fresh inquests.
Brigid Hughes' husband Anthony was shot dead when soldiers opened fire on eight IRA men who were trying to bomb an RUC station in Loughgall, County Armagh.
Northern Ireland's secretary of state intervened, giving the Advocate General the final say on over fresh inquests.
Mrs Hughes was granted leave to seek a judicial review of that decision.
'Shoot-to-kill'
A High Court judge in Belfast said her case raised issues that had "potentially profound implications".
The Loughgall attack was the largest loss of life suffered by the republican movement during the Troubles and added to allegations that the government was operating a shoot-to-kill policy at the time.
Undercover soldiers shot dead eight IRA members from east Tyrone as they approached an RUC station with a bomb in a hijacked digger.
Mr Hughes' family have already received a full government apology, confirming he was entirely innocent of any wrongdoing.
Northern Ireland Attorney General John Larkin QC had been considering requests for new inquests after the European Court of Human Rights in Strasbourg found the rights of those killed at Loughgall had been violated.
'Security sensitive'
But last September, Northern Ireland Secretary of State Theresa Villiers issued a certificate for Advocate General Jeremy Wright QC, allowing him to decide on whether to direct a fresh tribunal into the ambush.
Some of the material in the case was said to be "national security sensitive".
Lawyers for Mrs Hughes took legal action against the move, arguing that the government should have no role.
The widow believes authorities in London "played a significant part" in events that ultimately led to her husband's death, the court heard.
A barrister for Mrs Hughes said there is still significant dispute about whether the security services could have taken alternative action at Loughgall, and over the alleged shoot-to-kill policy.
It was claimed that under devolution, the Northern Ireland Attorney has authority to deal with matters of national security.
Ruling on the first stage of the case, the High Court judge held that an arguable case had been established that Ms Villiers' decision to issue a certificate was contrary to requirements within the European Convention on Human Rights.
He also granted leave to seek a judicial review on a further ground dealing with the compatibility of coroner's legislation with the 1998 Northern Ireland Act.
Listing the case for a full hearing in May, the judge added: "The applicant has demonstrated at least two of her grounds are arguable and will require in-depth examination at the substantive hearing."