Greenmount agricultural college training cuts 'short-sighted'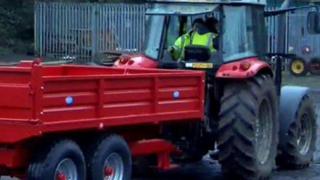 Cuts to training courses at Greenmount agricultural college would be "short-sighted", the Ulster Farmers' Union has warned.
There are fears that more than 20 jobs could go, after course tutors were told the training department was closing.
The Department of Agriculture and Rural Development (DARD) is set to cut £30m, mainly funded through 300 redundancies.
Ian Marshall of the union said the industry was "heavily regulated" and many of the courses were necessary.
'Watering down'
He said some of the short courses at the County Antrim college were mandatory for tasks such as spraying, and there was a risk that while alternative measures were not in place, "there would be people working in the industry who would not be properly qualified".
"We all accept that we are in austere times and there may be cutbacks, but we have encouraged the department not to take a short-term and short-sighted view of this," he said.
"There is a risk that if we put some of these courses out to private business, we lose control of the cost and we would be fearful of a watering down of the service."
A DARD spokesman said more than 50% of its budget related to staff costs and it needed to cut about 300 posts by September.
"At this stage, the services most likely to be impacted include training, countryside management, area-based schemes and animal health and welfare inspection," he said.
He said while these were "difficult decisions", it meant that key priority areas "can then be protected as far as possible from the impact of the budget reductions and job cuts".