Northern Ireland arts groups told of funding cuts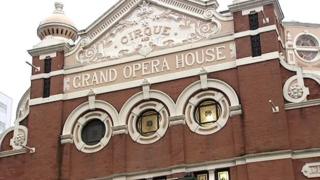 A number of Northern Ireland organisations who receive funding from the Arts Council, have been told the amount of money they get is being cut.
It comes a day after Queen's University said it could no longer fund the Belfast Festival at Queen's.
Earlier, Culture Minister Carál Ní Chuilín said her department does not have any money to support the festival.
Mary Clare Deane, the chief executive of the Grand Opera House, said it was facing a budget cut of £100,000.
"The funding that the Arts Council gives us pays for and goes towards the maintenance for example of our building, it's a 120-year-old building there are very significant costs around trying to keep the jewel in the crown.
"It has been getting tighter and tighter and it has been squeezed certainly over the last few years.
"We are now in the position where we have to look at how we spend money and what we spend it on."
Culture NI will be forced to close in April after being cut by the Arts Council, while the theatre company Tinderbox said the Arts Council was proposing a 44% cut to its funding.
Queen's University announced on Thursday that it was withdrawing funding for the Belfast Festival, Northern Ireland's leading cultural event.
The university said its decision was taken because of financial challenges.
Ms Ní Chuilín said she was disappointed by the decision but understood the university's financial pressures.
"I do understand that they are in difficult times and they're having to make difficult choices as many people do," she said.
"My fear is that from an institution like Queen's, it sends a message out to the arts that humanities and the arts are not worth funding, it doesn't have value."
The festival's main funders will meet next week to chart a future for the Belfast Festival but the head of the Arts Council has said it will probably continue on a much smaller scale.
Queen's festival celebrated its 50th anniversary in 2012.
It began as a small event on the university's campus and managed to keep going throughout the Troubles.
Festivals have included names as diverse as Jimi Hendrix, Billy Connolly, Kylie Minogue and Rowan Atkinson.
Recognition
The culture minister said although her department could not provide financial support to the organisers, she said she was keen that her department's support through the Arts Council would continue.
She also said she would lobby other executive departments for arts funding.