County Antrim man found guilty of raping four-year-old girl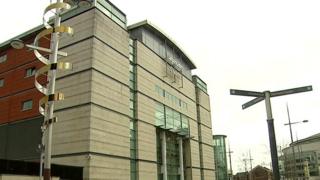 A 26-year-old County Antrim man has been found guilty by a jury of raping his partner's four-year-old daughter.
During a two-week trial, the jury heard that the girl was brought to Antrim Area Hospital after she was sexually assaulted in the house her mother shared with the defendant on 13 November, 2013.
The jury heard the couple had met on the internet.
The child was raped while her mother attended an evening class.
The girl's mother had initially lied about how her daughter had sustained an injury.
However, the mother has since admitted she was not present when the injury was sustained, and pleaded guilty to a charge of doing an act with intent to pervert the course of justice.
When the foreman of the jury delivered the unanimous guilty verdict, the defendant showed no emotion as he stood in the dock.
The judge ordered pre-sentence reports be compiled, as well as a victim impact report.
He remanded the 26-year-old man in custody and said he would be sentenced, alongside the girl's mother, on 17 April.