Welfare reform: Green Party's Steven Agnew criticises Sinn Féin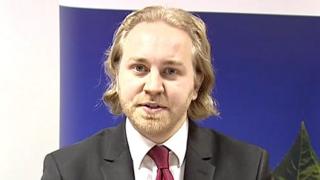 Green Party MLA Steven Agnew has strongly criticised Sinn Féin's handling of the issue of welfare reform.
Mr Agnew joined Sinn Féin and the SDLP in signing a petition of concern that blocked the passage of the controversial Welfare Reform Bill.
However, he has accused Sinn Féin of misleading those likely to be affected by benefit changes.
The Green Party is holding its annual conference in Belfast this weekend.
Ahead of it, Mr Agnew explained why he published a dossier attacking Sinn Féin over its welfare u-turn.
"It was the dishonesty that I was attacking, it was the misleading, to come out two weeks later or whatever it was and blame the DUP," he said.
"The figures were clear, it was obvious to me, and I wasn't in the talks, by the agreement itself and the numbers that were published around it.
"They were told that by me in the assembly and I thought it was important that someone brought some honesty to the discussion."
The Northern Ireland parties had agreed a deal on Westminster's welfare reform in the Stormont House Agreement in December.
The issue had previously threatened the future of the Northern Ireland power-sharing executive.
The current impasse began last week after Sinn Féin withdrew its support for welfare reform legislation.
Sinn Féin accused the DUP of going back on what had been agreed.
The DUP rejected this, saying there had never been the money for all the things Sinn Féin wanted and that Sinn Féin had been aware of this.
The Northern Ireland parties have held a number of meetings to resolve the impasse, but no agreement has been reached yet.