QUB dental school passes latest check-up but needs more work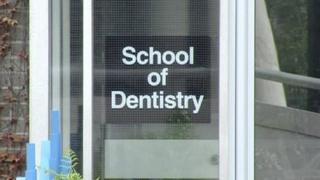 A major report into Belfast's School of Dentistry at Queen's University has said the centre remains fit to retain its registration as a UK dentist.
However, it said problems highlighted by inspectors before, including staff levels, still have not been addressed.
It was compiled by the UK regulatory body, the General Dental Council (GDC).
It follows a series of previous inspections that identified significant problems at the school, including the quality of its teaching.
'Extremely positive'
There will be a sigh of relief throughout the School of Dentistry and Queen's University as this latest report by the regulators could guarantee its future.
Compared to previous inspections, it is extremely positive.
The report highlights improvements in teaching at the school which is having a positive impact on dentistry students.
However, the panel noted there are still outstanding problems including under-staffing which, having threatened the school's success in the past, must now be addressed.
The school has been under the microscope for the past few years after concerns were raised over its funding levels and teaching standards.
It was severely criticised by GDC inspectors in a report published in October 2011.
Oral cancer
At the time, the GDC said a lack of communication between senior managers was damaging the education of dental students.
The inspectors also said the safety of the public was being put at risk and called on the school to take urgent action.
In February 2011, a total of 117 dental patients were recalled after the Belfast Health trust discovered their files had not been properly reviewed.
Four of them were cancer patients who died - three of them died as a result of oral cancer.
At the time, Queen's University said there was no connection between the cancer patients and the inspections by the GDC.