Welfare reform dispute: Gary Hart in warning over investors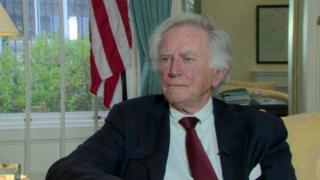 The US special envoy to Northern Ireland has said foreign investors are not going to come without knowing what rate of corporation tax they will pay.
Gary Hart said a visit by a group of potential investors put together by the State Department is dependant on the row over welfare reform being resolved.
The retired senator met the first and deputy first ministers separately on Wednesday.
He said he was optimistic a deal can be done before May's general election.
But Mr Hart also spelled out the economic price of failure.
"We are continuing in the United States, in the State Department, to put together an investor group for later this spring, hopefully, but our success in doing that will be almost totally dependant on the resolution of these economic matters," he told the BBC.
Asked if that was a warning to the politicians he said: "I wouldn't do that, it's not my position to do it, but it's commonsensical, everybody knows this.
"For example, the issue of the corporate tax rate is intricately related to the issue of the resolution of the budget, which is dependant on the resolution of the so-called welfare reforms, so these are dominoes which all fall together.
"I'd put it this way - if there is no clear number on the tax rate for corporations, I would think it would be difficult, if not impossible, to get any company to come here.
"The first question the international vice-president is going to ask is 'how much tax to we have to pay?' And if the answer is 'we don't know' they'll say 'when you know, tell me and we'll look into it'."
Mr Hart said that after meeting Mr Robinson and Mr McGuinness he was "totally convinced" the situation would be resolved.
Pressed on when that might happen, he said: "I would think - and this is personal optimism - I would think sooner rather than later, that is to say my guess - and it's pure guess - certainly before the elections in the UK and hopefully in coming days, no more than weeks."
Sinn Féin withdrew its support for the welfare reform bill earlier this month.
Talks aimed at resolving the stalemate have been taking place, but so far have failed to find a resolution.
The devolution of corporation tax rates to Northern Ireland is dependent on budget stability in NI.
Biden orange joke
Mr Hart also said the recent remarks by Vice President Joe Biden in Washington, when he joked that "if you're wearing orange you're not welcome here" were "not appropriate".
"Vice president Biden, who is a friend of 40 years, never ceases to surprise me, " Mr Hart said.
"Those who know and love Joe Biden understand that his sense of humour sometimes runs ahead of him and he has apologised and understands that this was not an appropriate remark, but he was simply trying to be amusing and it's part of what makes him so lovable."
Mr Hart said the vice-president had apologised "extensively."