EU exit 'would cause major problems for Northern Ireland'
One of Northern Ireland's leading businessmen has warned of "major problems" for the local economy if the UK votes to leave the European Union.
Gerard O'Hare is the managing director of Parker Green International, a property development and investment firm based in Newry, County Down.
His firm owns the Quays shopping centre in Newry and three more outside the UK.
He told BBC Radio Ulster's Inside Business there must be a serious debate on the implications of a British exit.
Prime Minister David Cameron is trying to secure support from business leaders for his plan to hold a referendum in 2017, giving voters the power to decide on the UK's future membership of the EU.
'Trade constrictions'
Mr O'Hare said a withdrawal would cause difficulties for companies in Northern Ireland.
"You have to assume that, in the event of the UK leaving the [EU], that there would then be some trade constrictions or restrictions, and that's where the big issue for all of us would be," he told the programme.
The Newry-born businessman is one of Northern Ireland's most successful entrepreneurs.
He founded Parker Green International in 1996 and has been a leading proponent of cross-border trade.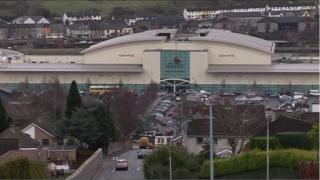 He has also been a driving force in the economic development of his native city which lies close to the Irish border.
Corporation tax
Northern Ireland's Business in the Community organisation has described him as instrumental in helping to "transform Newry from a border town into a thriving regional city".
Mr O'Hare told Inside Business that a British withdrawal from the EU would "certainly be a major problem for this [border] area and for Northern Ireland in particular, notwithstanding our corporation tax that's going to put us on an equal footing with the Republic".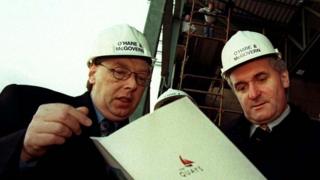 Corporation tax is the tax companies pay on their profits and the rate levied in the Republic of Ireland is much lower than that of the UK.
New legislation to give the Stormont Executive the power to set its own rate of corporation tax has been passed by Westminster, but its implementation is dependent on the passage of welfare reform legislation at Stormont.
Earlier this month, Chancellor George Osborne warned that the Treasury would retain a veto on corporation tax until Stormont politicians met the welfare reform commitments they signed up to in December's Stormont House Agreement.
The welfare legislation had made progress through the Northern Ireland Assembly until Sinn Féin suddenly withdrew their support on 9 March, over concerns there is not enough money in Stormont's budget to protect benefit claimants from losing income under the changes.
Gerald O'Hare's interview will be broadcast on BBC Radio Ulster's Inside Business at 13:30 GMT on Sunday 29 March.