New era for Northern Ireland's dairy farmers as quotas end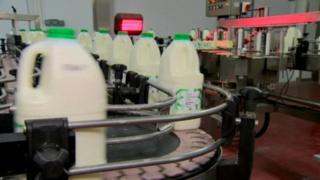 Northern Ireland dairy farmers are beginning a new era of unrestricted production following the ending of European milk quotas.
Production is expected to grow as Northern Ireland processors take advantage of increased demand in world markets for cheese and milk powders.
Milk processors in the Republic of Ireland are expecting a sharp increase in farm gate supplies.
Milk quotas were introduced in the European Union in 1984.
The aim was to prevent over-production which had resulted in costly butter mountains.
The policy involved limiting the volume of milk produced by each member state and governments in turn monitored milk production on farms.
Increased production
Before long, farmers found that a milk quota became a valuable asset in itself and Northern Ireland farmers were well placed to buy up quota from other parts of the United Kingdom.
According to the Ulster Farmers Union, quota transfers from Britain have allowed Northern Ireland farmers to increase production by more than 50% over the past 15 years.
The United Dairy Farmers group says milk production increased in Northern Ireland by 10% last year, as farms responded to strong prices and favourable weather conditions.
David Dobbin of the United Dairy Farmers said that while prices and weather are not as favourable this spring, he expects milk production to increase on Northern Ireland farms over the next three to 10 years.