Link between Belfast hijackings investigated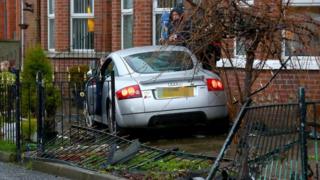 Police are investigating whether two car hijackings in Belfast are linked.
At about 18:00 BST on Wednesday, a man forced a woman out of her car at Union Street in the city centre.
He drove off but crashed into a parked vehicle a short distance away. He then ran off.
About 35 minutes later in north Belfast, a man armed with a knife threatened a driver who had stopped at traffic lights on the Antrim Road.
He ordered the motorist to sit in the passenger seat then drove off, but after travelling for a short distance, he drove into a garden fence at a house.
The hijacker ran off after crashing the car.
The man whose car was hijacked was still in the car when it crashed.
He is said to be shaken by his ordeal but was not injured.
Police have appealed for information.