Two men killed following road accident in Ballycastle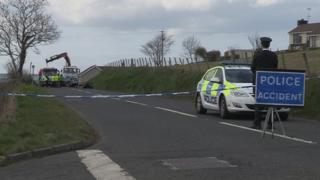 Two men have died following an early morning road accident in Ballycastle, County Antrim.
Johnny Black, 19, from Ballycastle and Robin William Lamont Wilson, 26, from Armoy, died after a head on collision between two cars on the Cushendall Road near Ballycastle.
A woman remains in a critical condition in the Royal Victoria Hospital, Belfast, following the crash.
Elsewhere, a motorcyclist was killed in a road accident in west Belfast.
David Anderson, 42, from the Coleraine area, died after a collision on the Tornagrough Road on Sunday afternoon.
The total number of road deaths in Northern Ireland this year is now 15.