Jean McConville's family angry over Gerry Adams US interview comment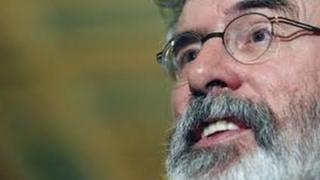 The family of Jean McConville have reacted with anger after Gerry Adams referred to her kidnap and murder as something that "happens in war".
The Sinn Féin President made his comments in a US television programme.
Mrs McConville, a widowed mother-of-10, was abducted, murdered and secretly buried by the IRA in 1972.
Her son Michael said his mother's murder should be treated as a war crime.
"IRA men came and women came and took our mother out of our own home and took her away and interrogated her for six days and brought her down to a beach, dug a hole and shot her dead," he said.
"It was an execution so this here should be a war crime and people should be held responsible for it to be a war crime."
Mr Adams made his comments in a US television interview with CBS presenter Scott Pelley.
Jean McConville became known as one of the so-called Disappeared.
The IRA admitted in 1999 that it murdered and buried at secret locations nine of the so-called Disappeared.
Searches have been carried out by the Independent Commission for the Location of Victims' Remains, established in 1999 by treaty between the British and Irish governments to obtain information in strictest confidence that may lead to where the bodies are buried.
Eight of these bodies have been confirmed as found but others remain missing.
After numerous searches, Mrs McConville's remains were finally found at Shelling Hill beach in County Louth in August 2003.