North Belfast houses damaged in hate crime attack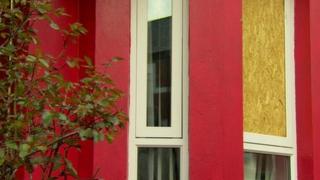 A Polish woman has spoken of her fear when she was confronted by a crowd of people throwing stones at her house in north Belfast.
A group of men attacked two houses and threatened residents at Mountcollyer Avenue in what police have described as a racially motivated hate crime.
Windows in two of the houses were smashed with bricks on Monday night and one man was reported to have been carrying a pick axe.
The woman said she did not feel safe.
"I noticed two guys running with axes like mad, threatening people in the middle of the street," she added.
"It is very upsetting - you just don't feel safe anymore. I'm looking for a way to move out of this area.
"I absolutely would not want to move, but for my family to feel secure there are things you have to do sometimes."