NI families delayed in Paris due to French air traffic strike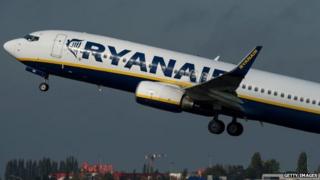 A group of families from Northern Ireland who were due to return home from Paris have had their journey delayed as a result of the French air traffic control strike.
Around 50 people - parents and young children - on holiday in Disneyland were told their flight was cancelled.
The families now face a six hour delay to get back to Belfast.
Ryanair, Aer Lingus and Easyjet all cancelled flights on Wednesday as a result of the industrial action.
Easyjet cancelled 118 flights, including two between Belfast and Paris.
And Ryanair has cancelled flights at Dublin airport to and from France, Spain and Portugal.
'Worrying'
Shauna McGroggan, a mother-of-two from Ballymena, said the group who were due to travel home today were upset.
"There is a coach-load of us, all families with small children," she said.
"It's a very exhausting trip with a lot of walking, so you're all geared up, packed and ready to go home. To be told about this does knock you."
Their tour operator has arranged for them to take a coach journey to Belgium before getting another flight to Dublin, and then a second coach journey to Belfast.
Mrs McGroggan added: "So far the children are OK at the moment, but I don't think they'll be happy after a three-hour coach ride and a four-hour wait in the airport.
"There are other people in our group who have to work tomorrow and for them it's quite worrying."
And she said the cancellation could put her family off visiting France in the future.
"I think Paris is known for this kind of thing - air traffic strikes and train strikes - so it might make us think twice. But we've been lucky that we've had a holiday rep with us."
'Grossly unfair'
George Best Belfast City Airport said it did not expect its flights to be affected by the industrial action.
Customers have been advised to check the status of their flights before heading to the airport.
In a statement, Ryanair said: "It's grossly unfair that thousands of European travellers will once again have their travel plans disrupted by the selfish actions of a tiny number of French ATC [air traffic control] workers."
The strike action is due to continue on Thursday.