North Belfast: Two released after police car pursuit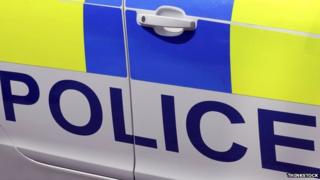 Two men who were arrested after a car chase involving police in north Belfast on Wednesday have been released pending a report to the Public Prosecution Service (PPS).
They were arrested along with a third man who remains in custody.
Police said they believed the men had been involved in a burglary in Newcastle earlier on Wednesday night.
Officers later noticed a car driving dangerously on the West Circular Road.
It was pursued by officers but got away, and was later seen in the Oldpark Road area where it was stopped and arrests were made.
A 27-year-old man and a 19-year-old man were arrested on suspicion of burglary and allowing themselves to be carried, but have since been released.
The 29-year-old man remains in custody on suspicion of a number of offences, including burglary, driving when unfit, dangerous driving and criminal damage.
During the pursuit, the car struck and damaged two other vehicles.