Elvis impersonators in world record bid in Antrim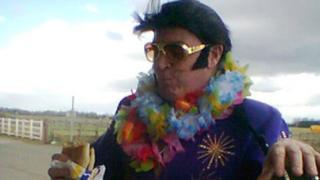 A small corner of County Antrim is preparing to get all shook up, loved tender and trampled by hundreds of blue suede shoes.
Nutts Corner is the venue for a gathering of Elvis impersonators on 25 April.
The organisers need almost 900 Elvis impersonators to break the current Guinness world record.
Fans will be able to enjoy an open microphone event.
Retro jump suits, sunglasses and wigs are the order of the day.
Organiser Julie Robinson said the aim was to raise money for charity.
"Who isn't a fan of Elvis? He was gorgeous, and we want the generation from then, some might be in their 70s and 80s, to come along," she said.
The money raised by the Elvis event will go to charity.