Forty gorse fires in single day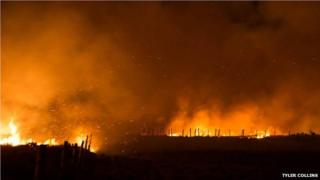 There were 40 gorse fires in Counties Tyrone and Londonderry in a single day.
The Fire Service said that while some blazes on Friday were accidental, others were started deliberately.
Fire commander Kieran Doherty said one fire on a hill at Ardmore was spread over a mile.
"You have to attack it from both sides, and a lot of personnel need to be deployed - we always have to be very vigilant for risk to life and property," he said.
"If the wind changes, a fire can turn on its head very quickly."