Two killed in road crashes in Cookstown and Strabane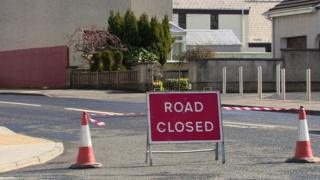 Two people have been killed in separate road crashes in County Tyrone.
In Cookstown, a woman in her 50s was killed in a single-vehicle crash on the Moneymore Road at 02:30 BST on Sunday.
In Strabane, a man in his 40s died following a collision involving a lorry and a van on the Melmount Road in the Victoria Bridge area at 22:00 BST on Saturday.
A 49-year-old man has been charged with a number of offences relating to the Strabane crash.
Nineteen people have now died on Northern Ireland's roads this year, with seven recorded in April alone.
PSNI Assistant Chief Constable Chris Noble told BBC Radio Ulster's The Sunday News that he could not recall a period as bad in recent history for road deaths.
"Seven deaths only halfway through April is horrendous," he added.
"The critical thing that I can do is pass on my sympathies and my condolences to the families, because the impact for them will stretch far beyond this particular weekend."