Lawrence Pritchard: Man critically injured in north Belfast incident dies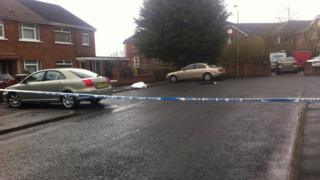 A 50-year-old man who was critically ill after an incident in the Ballysillan area of north Belfast, last month, has died in hospital.
Police were sent to Brae Hill Park at about 02:00 BST on Sunday, 29 March and found Lawrence Pritchard when they arrived.
He was given first aid by officers until an ambulance arrived and took him to hospital.
Mr Pritchard, from north Belfast, died in hospital on Friday night.
A man in his 40s was arrested at the time and later released on police bail pending further enquiries.