Naomi Long irresponsible over Bombardier EU remarks says Arlene Foster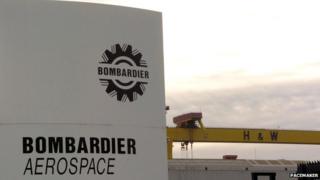 The Economy Minister Arlene Foster has said Naomi Long was "irresponsible" for suggesting Bombardier could pull out of Northern Ireland.
In a statement, the company said it "remains committed to its operations" here.
It was issued after the Alliance politician told an election event: "If we exit the EU, Bombardier will exit east Belfast."
She said she was told of the company's position at a meeting in Canada.
However, Ms Foster told the assembly she had been in contact with the company who were "very concerned" by the comments.
"I hope (she) reflects and indeed apologises to Bombardier for the embarrassment she has caused," Ms Foster said during question time at the assembly.
On Wednesday Mrs Long said she had nothing to apologise for.
"Leaving the EU would be damaging to our economy," she said.
"Anyone who is wanting to bury their head in the sand about that is the one who should be apologising."
Bombardier is one of Northern Ireland's largest private sector employers with a workforce of around 5,000.
It said it has invested £2.5bn in the region since taking over aircraft-makers Shorts Brothers 25 years ago.
It recently spent £520m on a new factory at Queen's Island to assemble wings for the C-Series and acquired a site in Newtownabbey "to facilitate growth".
"We will not speculate at this stage on the future of the UK's participation in the EU," the company statement concluded.
The Conservative Party has pledged to hold a referendum on Britain's EU membership if it wins power after May's General Election.
The DUP also supports holding a referendum.