Future of Belfast Zoo's macaques at risk after another escape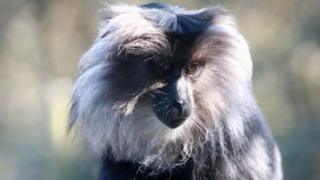 The future of Belfast Zoo's lion-tailed macaques could be at risk after another escape by one of the animals.
The zoo said a lion-tailed macaque "briefly escaped" on Tuesday, but was quickly recaptured.
Two of the monkeys escaped from the enclosure in March, but were also recaptured.
In a statement, the zoo said it was reviewing the enclosure and the long-term future of the species at the Cave Hill site in north Belfast.
Previously, six lion-tailed macaques escaped from the zoo in October 2013.
The monkey that escaped on Tuesday and the rest of the troop of macaques have been moved to an indoor off-show area while the zoo continues a review process.