Orange Order commissions review of Crumlin Road parade dispute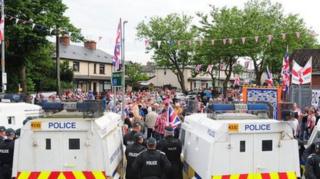 The Orange Order has commissioned a think tank to review the Crumlin Road parade dispute in north Belfast.
Protests have been on-going since part of the 12 July parade was restricted to marchers in 2013.
The road separates unionist and nationalist communities and has been a source of tension for many years.
There were several nights of rioting after the parade was stopped from returning along the road in 2013. Scores of police officers were injured.
Last year, the Parades Commission barred the 12 July Orange Order parade from returning along part of the route.
Loyalists have had a protest camp at the Woodvale/Ardoyne interface at Twaddell Avenue in the city since July 2013.
Orange Order Grand Master Edward Stevenson said the fact-finding review by the Francis Hutcheson Institute had been commissioned because the Northern Ireland secretary was "not seriously addressing the parading issue".
It will be headed by Dr James Dingley who said that it would be truly independent.
However, Joe Marley from the Crumlin and Ardoyne Residents' Association (CARA) said face-to-face talks between the Orange Order and local people were the only way to move forward.
He said this latest initiative was solely the work of the Orange Order.
"No-one else had sight or any input into this, I would have no faith in it. We cannot work anything out unless we are around the table," Mr Marley said.
Rev Mervyn Gibson of the Orange Order said this was about getting "a truthful account of what has happened over the years, warts and all".
He said no-one had anything to fear from the truth and the review represented "a building block" for moving forward.
The review is due to be published in mid June.