Man arrested over north Belfast gun attack is released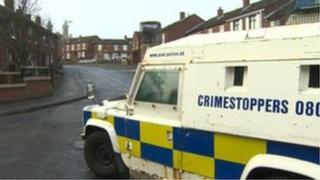 A 53-year-old man arrested by police investigating a gun attack on officers in north Belfast on 5 December 2013 has been released unconditionally.
Three police vehicles came under fire as they travelled along the Crumlin Road, near Brompton Park. No-one was injured.
Assault rifles were used in the attack that was blamed on dissident republicans.
The man was arrested in north Belfast on Tuesday morning.
A number of people have already been charged in connection with the shooting.