John Pat Cunningham: Arrest over Army shooting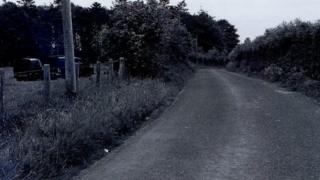 Police investigating the murder of a man shot dead by soldiers in County Armagh more than 40 years ago have arrested a 73-year-old man in England.
John Pat Cunningham, who was 27, was killed near Benburb on 15 June 1974.
The case has been reopened by the PSNI's Legacy Investigation Branch and a murder investigation has begun.
The suspect has been brought to Northern Ireland and is being questioned at Antrim PSNI station.
Mr Cunningham had a mental age of between six and 10.
In 2013, the Ministry of Defence apologised to his family saying Mr Cunnigham was "blameless".
Relatives of Mr Cunningham said the police investigation did not have their support.
Campaign organisation the Pat Finucane Centre (PFC) issued a statement on the family's behalf.
"Whilst family members have cautiously welcomed the arrest, they have asked the PFC to state categorically that they will only have confidence in an investigative process that is completely independent of the PSNI," a spokesman said.
"Cunningham family members said in October 2013 that they wish to see all investigations into British Army killings, including that of John Pat, being investigated by an independent body."