Northern Ireland ambulance staff get PSNI riot gear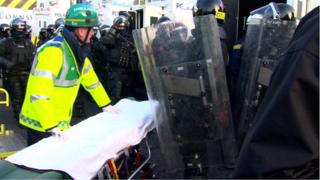 Some paramedics in Northern Ireland are to wear full PSNI riot gear when called to disturbances.
The Ambulance Service has said the move is a result of a review of riot situations.
John McPoland from the Ambulance Service said paramedics are often in situations that put them at risk.
"We need to continually review our operational procedures and this is just one step to try and protect our staff as best as we possibly can," he said.
"The uniform that our guys wear normally out on the road, it had a protective hat and a reflective coat.
"But in a riot situation and with the number of petrol bombs that have been thrown about the place, we felt that we could offer them better protection, by providing them with police riot gear and paramedics quite clearly displayed on it."
The ambulance service had initially decided not to publicise the initiative because of the security threat, but the story was broken in The Irish News on Tuesday morning.
It reported that 12 paramedics had volunteered for police public order training in Northern Ireland.
The paper also quoted the ambulance service's medical director Dr David McManus, who said the staff should not be seen as "police paramedics", but paramedics for both the public and police.