Charlie Hebdo Belfast event at Queen's University cancelled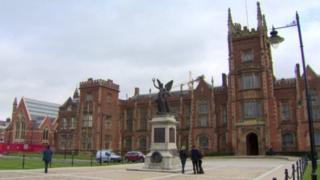 A conference in Belfast to discuss the fallout from the Charlie Hebdo murders has been cancelled.
It was due to be held at Queen's University in Belfast in June.
In an email to delegates, the university's vice chancellor Patrick Johnston said he had made the decision on Monday that the event would not proceed.
He cited concerns about the security risk for delegates and about the reputation of the university.
The symposium: Understanding Charlie: New perspectives on contemporary citizenship after Charlie Hebdo, was due to be hosted by QUB's Institute for Collaborative Research in the Humanities.
Twelve people died when two brothers, Said and Cherif Kouachi, fired on the journalists on 7 January at the satirical magazine's offices in Paris.
Five others were killed over the two following days by one of their associates.